I hoped to get this post up yesterday, but it was a crazy busy day with no time to edit. So here is what I was thinking about yesterday.
-----
Ember Wednesday in Advent
Reflect & orient oneself to the coming season
Today is also the first of the seven "O Antiphons" sung on the seven evenings before Christmas. The first is
O Wisdom
(O Sapientia).
O Wisdom, coming forth from the mouth of the Most High,
reaching from one end to the other,
mightily and sweetly ordering all things:
Come and teach us the way of prudence.
Holy Wisdom
The ember days begin with a
devotion to Mary
. I am thinking today of the wisdom of Mary, whom God gifted with a clear unclouded intellect, since she was preserved from sin from the moment of her conception (what we call her Immaculate Conception).
Mary possessed great wisdom
and when the angel appeared to her offering her a part in God's plan of salvation for mankind, she said yes, where Eve had said no. I am thankful for her yes, and my prayer is to also say yes to how ever God is calling me to act and speak.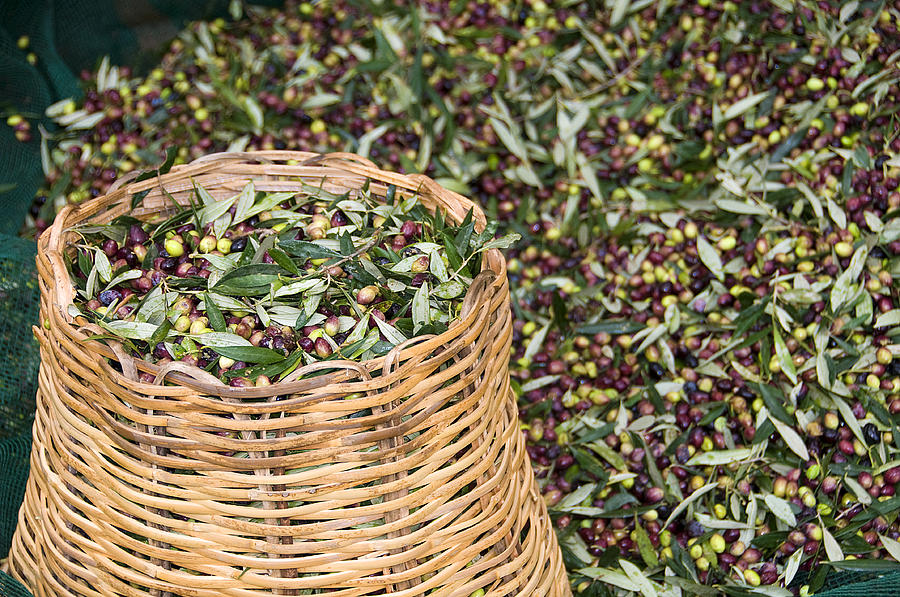 Olive Harvest
In some parts of the world (in Europe: Spain, Italy, and Greece are the top olive producers), the olive fruit is finished harvesting now, ensuring valuable oil (for cooking, for lamps, for use in holy oils) for the year to come.
Olives are harvested in the autumn and winter. More specifically in the Northern hemisphere, green olives are picked at the end of September to about the middle of November. Blond olives are picked from the middle of October to the end of November, and black olives are collected from the middle of November to the end of January or early February. In southern Europe, harvesting is done for several weeks in winter, but the time varies in each country, and with the season and the cultivar. (Wikipedia)
In Northern countries, it would make sense to
give thanks for the olive harvest
as well, since olive oil is used to make chrism and other anointing oils throughout the world. I used some olive oil in my cooking tonight for the caroling party.
This harvest has the least strong tie to British, Celtic, and Scandinavian cultures (unlike the grape and wheat harvest), which are my personal areas of interest. It is interesting to try to think as an ancient or medieval northern person would have. What would I be saying prayers of thanksgiving for in December, if I lived 200, or 500, or 1000 years ago?
Think back over the past three months.
What blessings have your received?
How has God provided for you?
Natural World
: ember days are set aside to give thanks for blessings received in the past quarter year and ask for God's continued providence
Winter
is the traditional time that animals were slaughtered, since the fresh meat was more easily preserved by the freezing air. Some fish and animals were harvested earlier and preserved by smoking, drying, or salting. Useful animals or animals not yet ready for eating were kept fed throughout the winter from the summer's harvest of grain.
As a modern person, I can give thanks for:
the animals that provide our food.
that I have a full pantry.
the people that raised the crops and animals, preserved the food for me and made it available at my convenient local grocery store.
that I have a warm home, shelter from rain and snow and cold, heated with electric and gas.
the love of God that sustains us and provides for all our material needs
Sunrise today was at 7:52 a.m. and sunset will be at 4:17 p.m., just 8 hrs and 26 min. of daytime. Moon is a waning crescent at 20% visible. The winter solstice is nearly here.
If
folklore
regarding weather prediction were true, based on observation of today's weather, January 2015 will be rainy and cold. (No surprise there.) Friday and Saturday's forecasts seem similar, foreboding a dreary wet February and March.
December 1 sunrise
Prayer
R. Alleluia, alleluia.
O Wisdom of our God Most High,
guiding creation with power and love;
come to teach us the path of knowledge!
R. Alleluia, alleluia.
Fasting
In the busyness of all the holiday preparations, some times there is just not time to eat, or to eat properly. If you would like to observe this optional day of fasting, here are some simple ways to begin:
eating things that were not my first choice
eating left overs that no one wants
eating less than you want
eating later than you wanted
eat without complaining
waiting to eat without getting "hangry"
Almsgiving
Opening my home to friends and family, feeding them, entertaining them. Hospitality is not always something I want to offer, especially when I am feeling behind on other project. But...again, do it anyway. And do it without complaining. Think about every guest as a weary Mary and Joseph coming in to Bethlehem looking for place to rest.
On the way to Bethlehem
Keep watch! Christ is coming.
Prepare! Christmas is coming.